TBC Bank Announces Unaudited 3Q and 9M 2023 Consolidated Financial Results
3Q 2023 net profit of GEL 300 million, down by 6% YoY, with ROE at 27.6%.
9M 2023 net profit of GEL 849 million, up by 9% YoY, with ROE at 27.0%.
European Union Market Abuse Regulation EU 596/2014 requires TBC Bank Group PLC to disclose that this announcement contains Inside Information, as defined in that Regulation.
Financial Highlights
Income statement

Balance sheet

Key ratios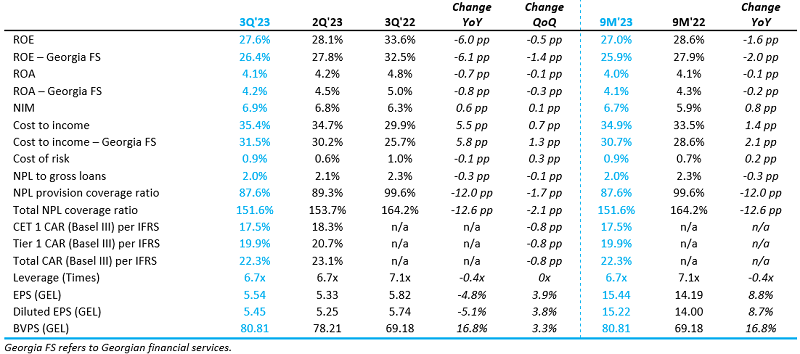 Operational Highlights
Customer base

Digital customers

Uzbekistan – key highlights

Georgian and Uzbek payments businesses

TNET – digital lifestyle platform in Georgia

Additional Information Disclosure
The following materials are disclosed on our Investor Relations website on https://tbcbankgroup.com/ under Results Center section:
3Q and 9M 2023 Results Report

3Q and 9M 2023 Results Call Presentation

Supplementary Data
For further enquiries, please contact:
Director of Investor Relations and International Media
Andrew Keeley
Or
Head of Investor Relations
Anna Romelashvili
ir@tbcbank.com.ge
About TBC Bank Group PLC ("TBC PLC")
TBC Bank Group PLC ("TBC PLC") is a public limited company registered in England and Wales. TBC PLC is the parent company of JSC TBC Bank ("TBC Bank") and a group of companies that principally operate in Georgia in the financial sector. TBC PLC also offers non-financial services via TNET, the largest digital ecosystem in Georgia. Since 2019, TBC PLC has expanded its operations into Uzbekistan by operating fast growing retail digital financial services in the country. TBC PLC is listed on the London Stock Exchange under the symbol TBCG and is a constituent of the FTSE 250 Index. It is also a member of the FTSE4Good Index Series and the MSCI United Kingdom Small Cap Index.
TBC Bank, together with its subsidiaries, is a leading universal banking group in Georgia, with a total market share of 39.1% of customer loans and 37.5% of customer deposits as of 30 September 2023, according to data published by the National Bank of Georgia on the analytical tool Tableau.